while I was driving home I was thinking how perfect my life was now. I own my own Fortune 500 Software company and I have a loving little wife that takes very good care of our home and is great in bed. I could not love her more and soon she will be having our first baby.
I know she will be a great mother and I want us to have two more kids while we are still young.
When I got home I found my very pregnant petite wife in the kitchen and I asked her was she alright. She meekly looked at me with her big beautiful blue eyes and asked in a very soft submissive voice, " Do you still think I am pretty?".
I took her in my arms and told her, " You are the most beautiful woman I know.".
Then I kissed her deeply while felt her baby bump. We started passionately making out and I turned her around and unzipped my pants. I then easily picked her up by her hips and entered her pregnant pussy and fucked her till she was screaming.
When I finished she stood up and turned and we held each other and then I felt my shoes get wet. Looking shocked she screamed, 'my water just broke!'. She got dressed and I rushed her to the hospital worried that she was 6 weeks early.
I waited in the Father's room at the hospital till the doctor came out and told me she did fine and it was a natural birth. Our new boy was small but very healthy so he needed to stay a week or so at the hospital to be on the safe side.
They brought out our new son and I looked at him through the window and I thought what brought us here.
I was once a woman and my wife was my husband. We got married in college and things were going well till I lost my scholarship. Worried that I would have to drop out in my senior year I went to the finance office and found out my husband paid my fees till graduation. He had taken the money he had worked hard to save for his education and paid it.
When I protested that he did that because now he had to drop out he told me he was the man and it was his duty to take care of me. So he went to work at a blue collar job and supported us till I graduated and started my own business. He worked very hard so I could get my business off the ground.
When I made my first major sale I told him he could go back to school because I was making enough to support us very well. He refused he said the idea of a man living off his wife revolted him. He continued to work even after we became very wealthy.
We both wanted children very badly but we both knew that one of us would have to stay home with the baby. My husband felt totally embraced of people thinking of him as Mr. Mom so we delayed me getting pregnant.
One day I was sharing our dilemma with a friend and she sent me to a Gypsy and the old woman was very understanding. She told me she would fix everything so we both could be very happy. She was so truly moved she did not even asked to be paid for her help.
I thank her and went home, My husband was home and he was cooking diner for us. He was so caring and because I always worked late he willing took care of all the house hold duties. He was actually better at it than me and seemed to enjoy it but I think male ego prevented him from saying he like doing it.
We talked and ate I told him about the Gypsy and he laughed and said "I hope she can but magic really?". We both laughed but he said it was good of her wanting to help. That night I had sex as a woman for the last time.
In the night I was awakened by a woman screaming. I jumped out of bed in the nearly total darkness and went into the bathroom seeing a tiny blonde woman looking in the mirror holding her breast and saw a puddle of pee on the floor. Then I noticed I had a cock.
We soon realized that tiny woman was my husband and I was a tall very handsome man. No one knew but us that any change had taken place I own my same business and my husband was a waitress. Our families and friends had no memories of our former selves.
About a week, later after we drank a lot of wine, I seduced my husband. I enjoyed the sense of power and my husband was a much more petite woman than I was and a hell of a lot more pretty and she seemed very submissive. I could tell having sex as a woman frightened her. But submissively became putty in my hands.
I knew exactly what to do to rock a woman's world from being one and before long I had my husband screaming in wave after wave of orgasms. My husband was now a real pillow eater and I loved the way I could control her. When I came the huge release I felt was heightened by the pleasure of feeling my cum pump deep in this help woman.
We found that we both liked sex better now than before and my husband now my wife started dressing and acting like her whole life revolved around pleasing me. Then one morning six weeks of me fucking her brains out almost every night, she got real nauseated while she was cooking breakfast.
As she rinsed her mouth out in the bathroom sink I asked, "Have you had a period yet?".
She answered, " Why would I have a period…OH MY GOD!". I hand her one of my old pregnancy tests and she used it and we both watched it turn pink.
So that is how I learn to be the man of the house and not a proud father. I have plans to get her pregnant again once she is back to normal. She will be happy being kept barefoot and pregnant and we both like the process of putting a bun in her oven.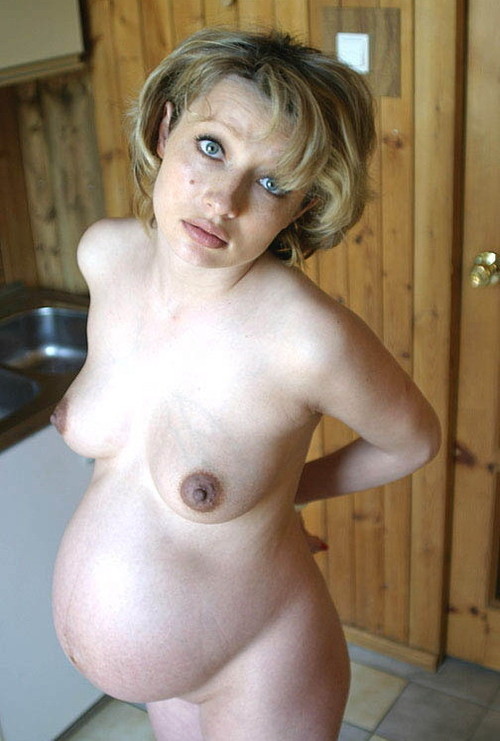 [ssba]