"Just a handjob," I told Jacob. "And don't get any funny ideas."
"Okay, okay fine. You are just so hot, Rob, and you know Kennedy is my favorite porn star."
"You think I meant for this to happen?" I nearly screamed.
No, I definitely did not mean for this to happen. The last thing I remember was being out at the bar with the guys, trying to pick up girls but not having much luck. Coming out of the bathroom I ran into someone coming down the hall.
It was dark and I couldn't really see what she looked like but she mumbled something and must have slipped some crazy experimental drug in my beer.
The next thing I knew I woke up back at home with a raging hangover. Stumbling to the bathroom, I dropped by boxers to take a leak and nearly passed out in shock. My dick was gone!
In its place instead there was just a soft mound. I reached down and sure enough, I had a pussy, complete with soft, warm, wet lips. Then I started to notice other changes: the weight of two breasts hanging from my chest, long blonde hair tickling my shoulders. I looked in the mirror and could not believe my eyes – staring back at me was Kennedy Leigh, the pornstar.
Suddenly Jacob was at the door, "hurry up Rob, I gotta take a leak."
"Just a second," I responded, in my new voice, an octave too high.
"Rob? Is that you?" Jacob asked as he opened the door.
"Holy shit dude, what? Who are you?"
I felt like crying. "It's me Jacob. It's Rob. I woke up like this. I just… I don't know."
"Whoa dude, you, you, you… you're fucking hot!"
At nearly the same time I noticed two important things: that I was naked, and that Jacob was quickly becoming aroused. Jacob and I had been housemates for more than two years and I'd seen him naked a couple of times by accident, but he was always flaccid and anyway they were just glimpses. I'd never seen him erect. He was huge! The bulge in his gym shorts kept growing and I couldn't take my eyes off it.
"Umm, dude, not to be too forward, but are you gonna do something about this or just keep staring at it?" he said smirking as he pulled down his shorts. His cock sprang free of the elastic and was suddenly pointing right at me.
Just as suddenly I realized that he was getting hard because of me. I also realized that not only had I turned into a woman overnight, but I had shrunk too. Jacob was now a couple inches taller than me, and clearly much stronger. I pulled my eyes from his cock and saw him leering at me with lust in his eyes. He took another step into the bathroom and closed the door.
Okay, I thought, as a mixture of fear and excitement washed over me. What am I going to do?
"Jacob, hold on a minute, we need to figure out what happened to me."
"Oh, don't worry, we will figure it out," he said, advancing another step.
I reached out and put my hand on his chest, feeling his hard pectoral muscles beneath my tiny fingers. This is crazy, I thought, as the urge to feel more of him grew stronger. I had an idea.
"Okay Jacob," I said. "Just a handjob. And don't get any funny ideas."
I figured I had to take the lead or else he might take me right there in the bathroom, and I knew I wasn't ready for that. Yet. I pushed closer to him, letting his penis push up against my belly as I wrapped my arms around his waist. I could feel the warmth of it, throbbing against me.
"Not in here," I said, as I spun around behind him and opened the bathroom door. I took a step out and looked over my shoulder, catching him staring at my ass. A jolt of pride hit me as his face revealed he was enjoying the view. I grabbed his hand and pulled him over to the couch.
"Sit down," I commanded as I gave him a playful shove. Another urge hit me as I stood over him, his cock pointing straight up. This urge was new, a totally foreign feeling, one I'd never felt before. A strange emptiness, the need to be filled. It was almost overpowering, and I knew the cure was right there in front of me. But I needed to keep control, so I lay down on Jacob's lap, my back to him, his cock in my face.
"This is too weird, Jacob, I can't look at you."
"Whatever dude, your ass is amazing," he said, as he grabbed a handful of cheek and squeezed.
"Hey! Knock it off, Jacob. Or I'm done," I said.
My attention turned back to his cock. Up close it was even bigger, and drops of precum were dripping from the tip. I reached out and grabbed his shaft, again noticing how small my new hands were. I'd never felt another man's cock before, and I took a second to take in the new sensations, the warmth of it in my hand, how big it felt!
As I started to stroke his cock slowly up and down, Jacob let out a moan. "Oh my god, this is unreal." It sure is, I thought, as I started stroking faster.
More precum dripped from the tip as I grabbed his balls with my other hand. I leaned back on Jacob, feeling his hard body under me. He moaned again and again I felt his hand caress my ass. I didn't warn him off this time, it felt good and I figured it might speed things up.
I could feel his balls start to throb and stared in wonder as the head of his cock engorged. The first ropes of his cum hit me on the face and I gasped. Jacob let out a groan as he kept coming on my face and chest. Finally I felt him relax behind me, spent and satisfied.
I lay there, covered in cum, the smell of overwhelming me, familiar but different at the same time. In the past the smell of cum was always associated with a tinge of disgust as I would hastily dispose of it in a tissue or by wiping it off the bathroom sink. Now it was a different smell, almost intoxicating. It smelled like satisfaction, like desire, like accomplishment.
I had made Jacob hard just by standing in front of him naked, and then I had gotten him off with just my hand. All these thoughts and feelings were mixed up in me as his cock slowly got soft in my hand. What would come next, I wondered, as Jacob gave my ass another squeeze.
"I think I've got a funny idea," I said, wiping some cum off my tit and bringing it up to my mouth.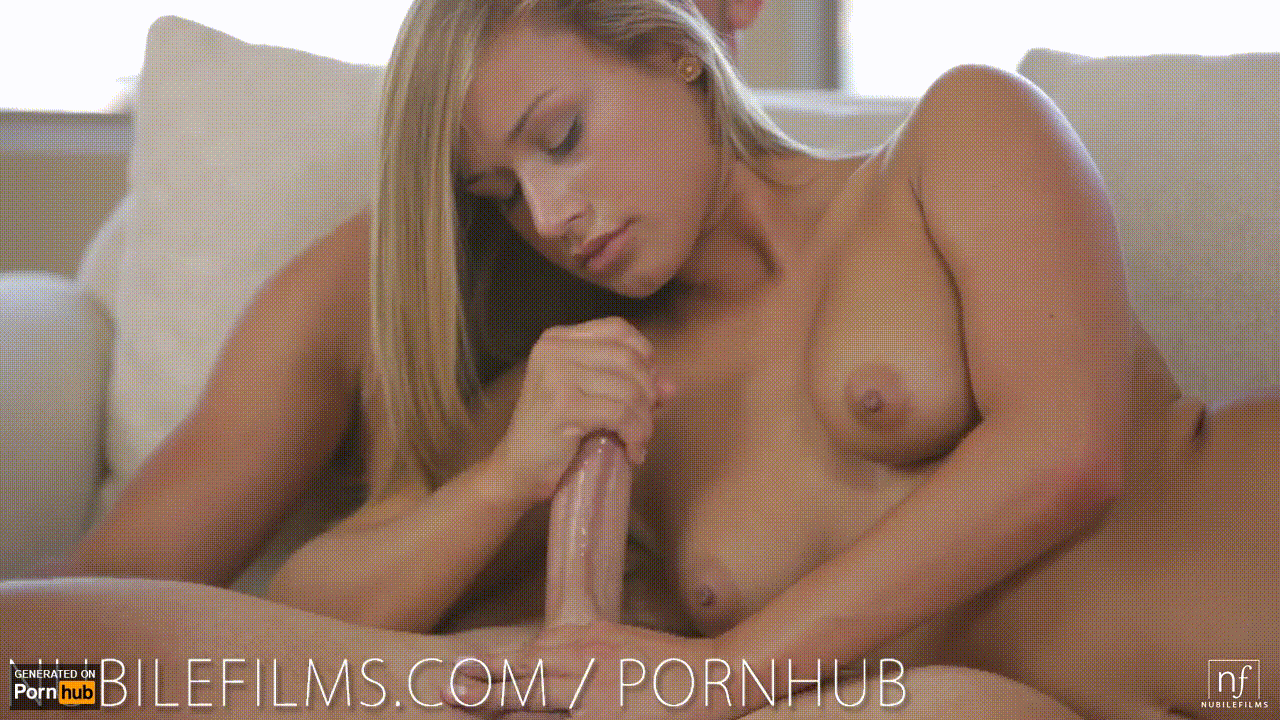 [ssba]