I bought a new house and my best friend Eric came over to help me fix it up some. We needed a tool we did not have so we went in to the old clutter garage to see if the former owner left one. while I was looking in and old box of tools I found a old game token that said " Good For One Wish".
Laughed and threw it to Eric who read it.
Eric said, Know what I wish. I said " What?". Eric said, "I wish I had a babe girl friend really into me and that I liked hanging with as mush as I do you." There was a bright flash and the coin was gone. I felt everything in my body shift and change and my clothes change too. when it stopped I saw that I had long dark hair and a bikini top on and very short cut off jeans. I looked at Eric and saw he was much taller that me and that looking at him made me feel warm between my legs. Eric said, I had bought that token from a Witch with the restriction that it could only be used on the person that you had to given it to be used. I snuck it in that box you were looking in and you did exactly what I needed to activate it. At that he came over to me and took me in is arms and kissed me. I fought him a first but I loved my best friend and it felt so good so I joined in. Soon I was naked and he turned me around. Then dripping wet I put my propped my leg on the work bench and he fucked me. I loved it and we now live together and I never miss being a guy and I love Eric and he rocks my world now all the time.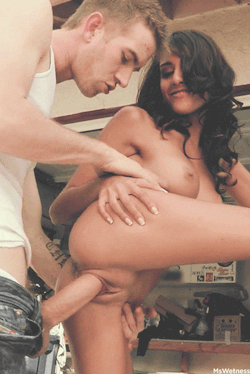 [ssba]