Klein at the meeting blatantly said, what the company needed, in fact, what every office needed was a raunchy secretary to help relieve stress. The boss being very open minded and a sex addict agreed, but the women secretaries were put off by this. They threatened to quit if they were asked to do sex acts at the office to please the male staff. The boss just smiled.
"No, no I would never order you secretaries into this. I might be a lot of things, but I'm not that bad of a person. No, I will instead make Klein here the raunchy secretary around the office as stress reliever. After all it was his idea, so why not have him be the one to implement it, right Klein? Starting as of now, you will we be the office secretary slut," said the boss.
"Yeah right, how am I going to do that? I'm not even a woman," said Klein.
The boss said, "Well that is very sexist, thinking the office raunchy secretary has to be a woman. Any of you really. I mean you secretaries thought I was going to appoint one of you, because you are women too. However, traditionally office raunchy secretaries have been women, and why break that tradition. So Klein, you will be escorted by security to the change booth… the source of this company's massive profits, to be changed yourself from chauvinistic exec to raunchy secretary, female of course. Oh and don't worry, we'll outfit you accordingly free of charge, and I'm going to try you out myself first, I've had a stressful week what can I say?
Klein was dragged to the change booth, stripped naked, and transformed to a raunchy female with five times the ordinary sex drive of a woman, and full mental freedom except some subliminal programming to supplement her new urges insuring she would do exactly what they asked of her daily. Let's just say getting coffee for other employees would be the small act of the day compared to other acts she would be doing behind closed doors!
After the change was complete, Klein was totally female, and extremely attractive, long blonde hair, huge milky white breasts, a soft round bottom, flared hips, and long sexy legs with tiny feet and hands. Her face was pretty yet a bit slutty, just what the doctor ordered. She was still unconscious, as all were after the change. This gave them enough time to outfit the new office skank with sexy black fishnets, tight gray pencil skirt, white peep toe pumps, a satin white blouse, and matching neon blue bra and panties. As an added touch, they gave her black framed glasses to make for a more secretarial look.
Soon though, those panties would be off as they guided her into his office, and he got hard and entered her new tight pussy. That was when she regained consciousness, during sex with her boss, she was riding him like a raunchy secretary, as the picture shows, he even unbuttoned her top and pulled down her bra revealing luscious hooters from beneath it! Her skirt was hiked up around her narrow waist, while he spread apart her stocking clad legs.
Klein's mouth opened in shock, as she felt her boss inside her new indoor plumbing, a bit painful, but a bit pleasurable too, her virgin pussy entered for the first time by none other than her boss, the man that ordered the change from Klein's very own suggestion. While Klein gasped in her new soft high pitched voice, she realized that mouth, though changed, was what got her in trouble in the first place basically, and now she would probably be using it in the way she suggested at the meeting, as part of relieving stress as a raunchy secretary! So on that day, shortly after here meeting input, Klein was gone, and Kelly was born, the office raunchy secretary, because after all every office needs a raunchy secretary, according to her anyway!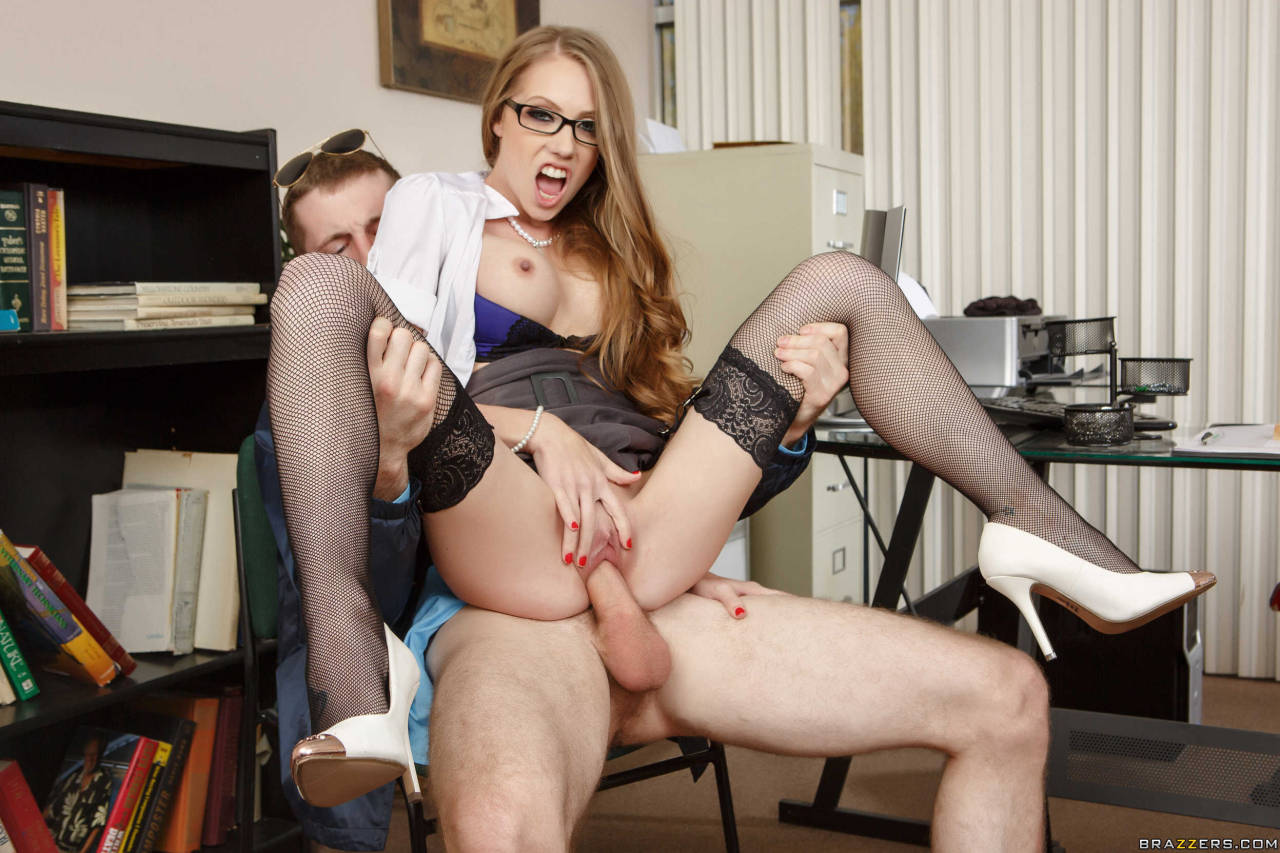 [ssba]