When Kyle came back home he saw the small box in front of the door. "Has it finally arrived?", he excitedely asked himself.
He brought it in and unwrapped it, tearing through the packing material until he was holding a small and diminutive purple dildo in his trembling hands. Kyle could barely contain himself.
The clothes he was wearing was quickly removed so he was stark naked and placed himself on the back in the floor.
The dildo was already lubed up and he carefully guided it to his anal opening and pushed it slowly in. Due to its small size it glided in without any trouble.
"Here goes nothing", Kyle whispered to himself, fully aware of what this purple dildo would do to him.
The first thing that happened was that a pleasureable tendril of electricity coarsed through his body, emanating from his nether regions and made him whimper.
It sent his body into a state of arousal that only would get more intense as his body changed.
Two things happened at once. His height and muscles decreased to the point that anyone would think he would be a pushover.
Most of his bodyhair fell off into a big pile, and his fingers seemed to have been elongated with manicured nails.
Then it became interesting. As he was lying down on his back he felt that his backside was being raised up slightly. He wondered why first but then he realized that his ass was growing to way bigger proportions than before, at the same time the curvature of his spine changed.
The thing inside of him, the dildo, had become slightly larger.
His scalp tingled and a wave of hair cascaded down his neck. The face felt like it was crawling with ants, which soon subsided, as his features was becoming softer, rounder and more appealing.
Kyle moaned as the pressure in his chest increased more and more until it was released, using the energies to form two luscuious boobs on his chest that exploded into being.
"Not far now", he panted with his much higher voice. Oh god, the horniness was killing him!
The dildo had become even bigger now.
His dick began to contract itself and get smaller for every second, only to disappear from his groin.
"Come on! Come on!", Kyle said betwen gritted teeth.
It felt like someone was pressing something onto his groind and it was slowly giving away to the invisible force. Just like that a hole appeared and quickly formed into a vagina.
The dildo was almost unbearable big now.
The horniness was at its highest.
The transformation was over.
The fantastic sensations was waning.
"Noooooo!", she cried out, "I need the release!". The dildo plopped out of her.
"Fuck! I was so close!"
Her eyes got set on the now much bigger purple dildo. "Of course", she hissed, grabbing it with both hands and shoved it into her pussy. She let out a sigh, thanks to the wonderful feeling of being filled up.
Eventually she finally got her sweet release, a feeling like no other, but now she wanted more. She didn´t want to be satisfied with inanimate things to keep her pleasured.
Maybe you want to help her?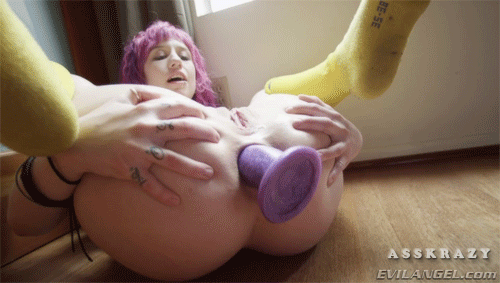 [ssba]