Harold was told he had just one wish from the genie of the lamp that was on his kitchen cabinet. Half not believing, and half drunk, he just made a quick wish, not even thinking much about it.
Harold blurted out, "I wish I could be with a hot school teacher who loved my cock."
The genie smiled evilly, "DONE! You are the school teacher, and you already love your own cock, so my job is completed."
That instant Harold heard the genie's voice almost coming from his as he felt himself ripped out of his own body, then growing a new one. As his chest expanded and his own dick retracted, and based on what the genie said, he knew something was super wrong! Judging from the new clothes forming on his new body, he surmised quickly that he was the one becoming the teacher, and he did already love his cock, so this wish was actually granted, though in a twisted route!
After hiking up his new silky dark skirt, and finding his new vagina covered only by sheer taupe pantyhose, he knew that with just one wish, he was stuck as the school teacher he so desired. He had become the object of his wishing desire! He could hear the genie laugh in his former cock, as a joke, as he put his new pierced ear to his former crotch, now controlled by another version of himself still in his old body. He loved his cock, but couldn't imaging loving it from this side!
Soon his body gave way to new urges, as he couldn't resist his former self! Strong urges to suck and fuck his former love stick were there, as he became wet between his new softer thighs. He ripped open his new white blouse to see his massive tits, barely contained in a Playtex bra, as he looked down at them in shock, also feeling the pinch of the pumps on his softer, smaller new feet. The concept of heels hurting your feet had a whole new meaning as he was experiencing it from the woman's side of things for the first time.
He licked his lips almost automatically, in response to his own former penis, tasting the cheery flavor of his lip gloss now on his lips along with the heavy makeup now covering his new pretty face. He stared at his new hands a bit, seeing the red long nails, then pulled at his new long hair, amazed at the strange sensation of having long hair framing his new face. The pantyhose felt strange to him too as he was squatted down against his "new man" feeling the nylon spandex glide over his new smooth legs as he bent down to cock level.
His former body moaned and said, "Oh Ms. Lovincox, you are so sexy."
The former man Harold, now woman Ms. Lotta Lovincox, had a name that suited her as she realized she really loved cocks now, especially her former one!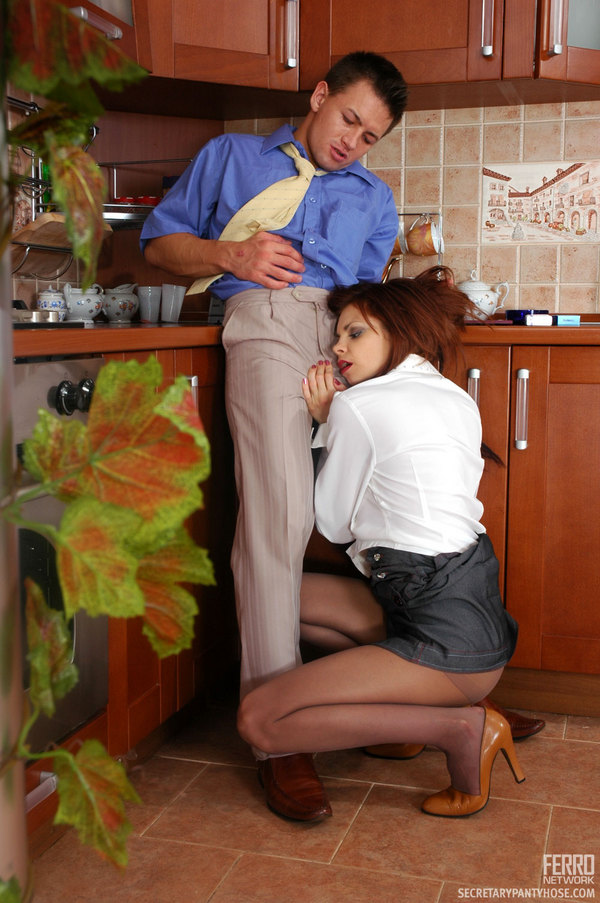 [ssba]