I couldn't believe it. Jenny came to me a couple of weeks ago raving about this new marriage counselor who could work miracles using something called "Swap" Therapy. She knew that Jack and I are in a slump right now – and how could she not? She's my best friend and I tell her everything.
I had heard something about this doctor before but I didn't have any specifics. Jenny proceeded to tell me just how much this therapy has helped her and Mitch's marriage and how much better they understand each other now that therapy has started.
She also said I could get a discount if I used her name when making an appointment. (AND she would get a free session as a referral bonus). So I promised her I would call and check it out.
I am SO glad I did! The nurse told me how the program works and explained that there were even "options" we could explore, for a upgrade charge of course. Just hearing about how the "therapy" worked was making me wet! All I needed to do was get consent from my spouse and they could set up the session immediately. We wouldn't even have to go into the office. I could set the session up in our house.
So, I called Jack and convinced him to try the therapy with me. I was SO excited that he said yes I forgot to say goodbye or I love you and just hung up and dialed the nurse right back and ordered our session.
She said we could have it scheduled for this evening at our home and I was totally impatient for Jack to come in from work that I called back and asked if I could add the fantasy option to the session. She said no problem. Everything would kickoff as soon as Jack came through the door!
I couldn't wait for him to get home! I picked out a pair of his workout shorts to walk around in all afternoon – just the shorts, no bra, no shirt – and got absolutely NOTHING done around the house because of my aroused state.
Around 5pm, I heard a car pull into the driveway. I ran into the living room and waited. As Jack put the key in the lock and opened the door, I had this incredible feeling of POWER wash over me. My arms and legs grew more and more muscular and my abs morphed into a six pack and a male model would DIE for. More importantly was the incredible feeling of my thighs pushing apart as a penis grew out of my crotch. It was so intoxicating, so virile. I could feel it growing down my leg and I had no idea how big I was going to get and I didn't CARE!
As Jack came around the corner I couldn't believe what I saw – a stunning blonde woman with long glorious hair and a tight, hot body. My new dick immediately got hard and started to peek out of the leg of my shorts. I just had to take them off and take them off NOW!!!
I watched her unzip her dress and drop it to the floor. Then she just stood and watched ME drop my shorts – I couldn't believe it. I was HUGE. I took a quick rub or two on my new shaft and asked "her" if she liked my new body… She never said a word just started walking towards me with little moans coming from her throat.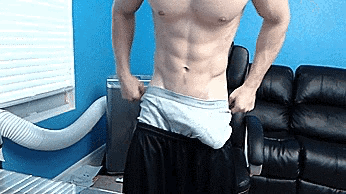 [ssba]