Tad was obnoxious and kept yelling at the cable guy about his streaming service not being fast enough because of his slow internet. The cable guy, Lee, was tired of his being rude and mean, and was privately a magician that could do real magic.
"I want better streaming service you dick," yelled Tad.
Lee replied, "I'll show you better streaming service with a dick!"
Suddenly Tad was on his knees with huge breasts and a wet vagina, his breast exposed, in pantyhose and heels. Lee came all over his face and chest.
Lee asked, "Is that better streaming service for you from some dick there Tara?"
"TARA? You fricking prick, what have you done to me?! I'm a… my voice, I'm a chick! I have huge boobs, and a pussy and cum all over me! What is this? I can't believe this is happening, how is this even possible to happen," asked the confused and shocked new Tara.
Lee said, "It's possible, because I know magic, and because you are a nasty person. So, if you want to be nasty, I thought why not make you nasty and give me some pleasure from it as well? You can be nasty, and I can get off. A win-win in to me! Oh by the way, I fixed your cable for streaming better. Maybe you can stream some videos of you doing the nasty and start your own business. You are this way permanently, so with a body like that maybe you can use that streaming for a job now, TARA! By the way nice boobs babe."
Tara freaked running for a mirror while holding her boobs so they wouldn't bounce all over. She seen herself, a busty blonde covered in Lee's hot cum, she looked slutty this way, but this would be her from now on, a busty blonde. She screamed then cried, as Lee laughed.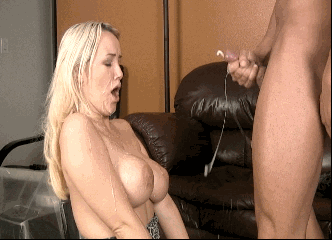 [ssba]