He found it hard to keep his mind off her. The way she walked atop of high heels in that sexy skirt and black pantyhose. No one else was like it. She was definitely his favourite teacher. He sat there trying to do his homework but he couldn't, his mind was on something else. Her. Miss Longley.
Then boom. Everything changed. The text book, the calculator and his pictures of him with family vanished. The desk was different too. A vaguely familiar piece of writing which looked like an essay or report of sorts was spread on the desk. It was his essay on sociology, the one he handed in two weeks ago. He hadn't got it back because it hadn't been marked. It was strange.
He reaches forward with his delicate manicured hand. It took him a moment to realise it but the hand wasn't is. Further investigation via frisking his body up and down confirmed that he was a she. On his chest were breasts and nothing lied down below.
He sits there shocked and panicked, trying to come to terms with being female. He is a she. It's not right. It must be a dream.
He continues to observe his now her body. Skirt, sizeable breasts, nice clean shaven legs beneath pantyhose and heels. He kicks the heels off under the desk and let's his new girly pantyhose covered feet slide across the wooden floor like silk.
He stands and sees a mirror he walks across. It was soon clear that he was Miss Longley. Instantly, he began ripping the clothes off her body. He'd been picturing her naked for eternity finally he would know what she looked like under those clothes. He wasn't disappointed. She was pure beauty.
After many moments of admiration. He had to be serious. He was Miss Longley. There was no going back. He had to accept it and do her job, mark those papers. He now stared to himself that he was a she and her name was Leanne Longley.
She threw some comfortable clothes on and got to it. She marked paper after paper. Many were quite interesting. She definitely found marking it more interesting than writing. The height of the pile decreased and decreased and decreased until nothing remained. She was done. She could go to bed and enjoy her body.
Time passed, she learnt how to live as Miss Longley. She didn't want to arouse suspicion so she tried to make it as realistic as possible. She dresses, wore make up and did her hair like Miss Longley. She even taught like Miss Longley. She loves it. Nothing beats being the sexy school teacher in hosiery and heels. Nothing.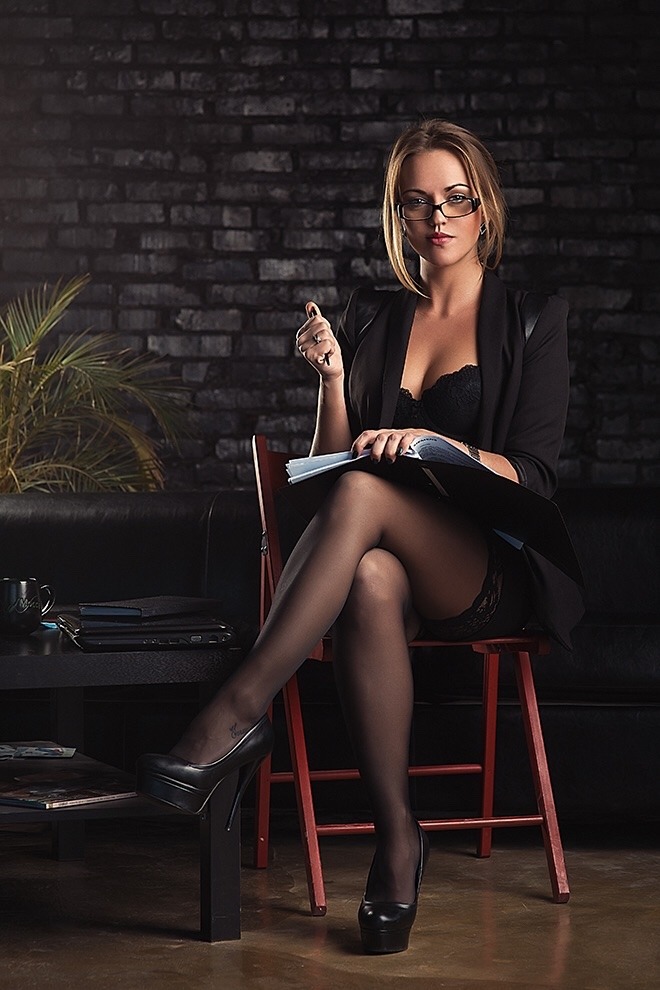 [ssba]