Brent love Ms. Roxi, often calling her "Foxy Roxi". He loved her massive boobs too, 34M tits! He was stunned one day when she whispered in his ear, that if he liked her so much, he could carry the weight of the class!
Suddenly he was standing in front of the class, as Roxi! He jiggled his huge boobs in his top feeling their sensitive weight as he felt his new big ass, thunder thighs, long curly black hair, and dangly earrings all at once, along with his new void between his legs.
He spoke hearing her voice come from him, and realized he felt great, this was better than being with her, being in her body!
He went along with the class lesson plan for making a banana split, but the class was more focused on the new Roxi of course!
One guy put a banana between Roxi's massive cleavage, and said, "Shouldn't the banana go there?"
Roxi whispered into the guy's ear, "No, dear, but your cock should later after class."
The guy got an instant tent in his pants, so tried to sit down quickly to cover it. Roxi was not only a buxom woman, but now horny for dudes as well! Meanwhile, the old Roxi in his body was talking about keeping it for awhile, and finding out what dating chicks was like!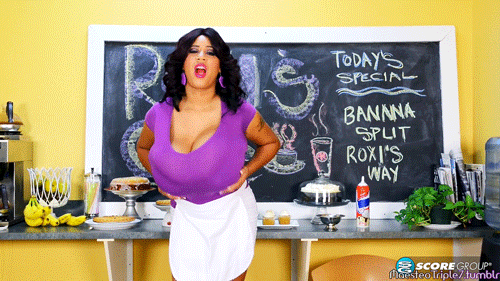 [ssba]