"Wow, this feels so different!" Donald said in his honey sweet voice as he exited the MAU. "After this you turn me back then I get to pick a hot female body for you right?"
"Oh definitely! But first why don't you explore your new body a little. I bet you'll like it!" Eddie replied with a sly grin.
Donald wasted no time feeling up his new curves. He caressed his perky tits as one hand rubbed his feline mound. "Ooooo, I know it sounds strange, but I think I like this body." Donald breathed.
"You must be getting pretty horny having a hot body like that. I bet you can't wait to show it off for me."
Donald was about to disagree but then a small shudder ran through his lithe body while a smile formed on his face. "Oh man, I feel so hot! So sexy!" Donald began to undress. "I just have to get these clothes off!" When his panties hit the floor Donald struck a sexy pose. His pussy was wet and the desire was clear in his eyes.
"I bet you didn't know how flexible that body is. Go ahead and try it out." Eddie laughed a little at his inside joke.
Donald lifted his leg well above his head in a vertical split. He felt amazed yet still incredibly horny. He ran his hand down his raised leg to touch his hot female sex. Why was he acting like this he thought.
"Ok, time for some real fun." Eddie said as he stood up and walked to where Donald was still posing. "Your name is Donna. You are my sexy girlfriend, and you find me incredibly attractive. You will always act girly and sexy but will only want me. In fact, you want to suck my dick right now."
Donna couldn't help licking her lips as she looked down to her boyfriends crotch. She slowly lowered her leg and sauntered over to Eddie, exaggerating her walk with her hips. She forcefully kissed him before sinking to her knees and undoing his belt.
Eddie could only smile. Donald had no idea that the MAU could also make mental changes, and Eddie had made his mind as flexible as his body.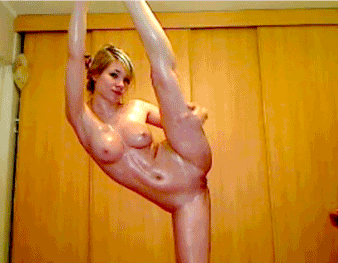 [ssba]