When my sister asked me to be one of her "bridesmaids," I was honored, but assumed I'd be wearing a suit and simply standing on her side during the ceremony. I was wrong.
Apparently, because her fiance's side of the wedding party was all-male, she wanted hers to be all-female. So, she has scoured the Internet and old shops for something called the Medallion of Zulo … which she managed to find. She used that to turn me into a female copy of myself; her "baby sister, Kayleigh."
I wasn't thrilled with her or her idea, but I wanted her to be happy so I went along with it. Besides, she changed me back after making sure it worked and promised I'd only need to be Kayleigh for official wedding-related stuff (i.e. dress fittings, bachelorette party, rehearsal, the actual wedding day).
So, I was a bit peeved to find out that the bachelorette party consisted of an entire weekend in Vegas the week before her wedding. But, as the good little sister, Kayleigh went along … and I had a surprisingly excellent time. Sure, I got hammered one of the nights and ended up waking up in a strange guy's hotel room. But I remember the sex being fantastic!
I just wish she hadn't insisted on all of us participating in a "special treat" to give her fiance as a naughty groom's gift. I'll feel weird knowing my own brother-in-law might be getting excited watching me shake my pantied booty (second from the left) at him; especially when Kayleigh starts popping up more often in the future …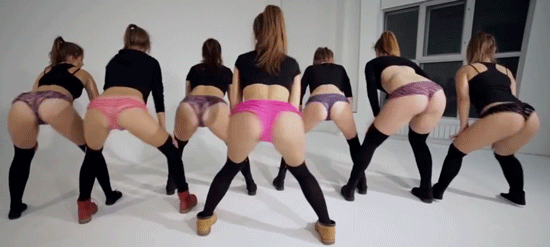 [ssba]