Jeff and Frank are best friends & had one a weeks pass to exchange island in a local charity raffle they did not remember entering.
They new the island was exclusive and very expensive due to the fact that they could give you the holiday nobody else could.
They both knew it was possible that they could end up in the bodies of women but a free holiday was a free holiday.
Five minutes after checking into the resort they found themselves standing in reception but now in the body's of a young couple who had just checked in as well.
Jeff was not happy finding himself in the body of a young woman as he was hoping to spend his weeks vacation relaxing in the sun and chatting up a couple of the bikini clad women he had already seen walking around the hotel but now he was going to be one of those girls getting chatted up.
Frank was happy as he was still a man even though he was slightly older but he could still pull.
Frank and Jeff were shown to there twin room were the couple who's bodies they were inhabiting suitcases were already waiting for them.
Jeff immediately hit the mini bar desperate for a drink still slightly in shock at becoming a woman and downed a couple mini bottles of vodka which had the desired effect as his female body started feeling more relaxed as the booze hit his system.
Frank on the other hand went to explore and spent his first hour on exchange island watching the young girls by the pool.
Whilst Frank was out of the room Jeff felt a little bit drowsy after a couple more shots of vodka and slipped off the flimsy dress he was wearing and discovered the woman he had become was wearing no underwear she was definitely looking forward to a bit of action with her boyfriend.
He spread a towel on the sun lounger and lay there enjoying the feeling of the hot sun washing over his new female body enjoying the way it made him feel as he downed another couple of bottles of vodka and dozed in the sun.
When Frank returned to the room he was surprised to see Jeff lying out on the balcony completely naked and could not stop himself from getting a hard-on while he watched him.
It was almost 20 minutes before Jeff noticed Frank standing there watching him and at first he was angry and cross with him and try to cover his nakedness but there was just something about Frank.
He wasn't sure if it was because there body's new each other so intimately or the amount of vodka he had consumed but he was starting to get wet just standing there.
He didn't even protest when Frank removed his shorts showing Jeff his already rock hard cock that made Jeff feel completely strange.
His male self was repulsed by the thing in front of him but his new stronger female emotions and hormones practically caused him to throw himself at Frank and before he knew what he was doing he was sat next to Frank on the couch with his throbbing member between his slender feminine fingers.
He didn't even try to fight the urge to suck Frank's member as he slowly lowered his mouth over it enjoying the warm salty taste of his seed as he sucked him to climax feeling the hot warm sticky goo land in his mouth almost making him gag as the remanence spilled out of his mouth & dribbled down his chin and over his large breasts as he did his best to swallow.
They new there Vacation was definitely going to be different than they planned it to be and things were never going to be the same when they got home after what they did in their temporary vacation bodies.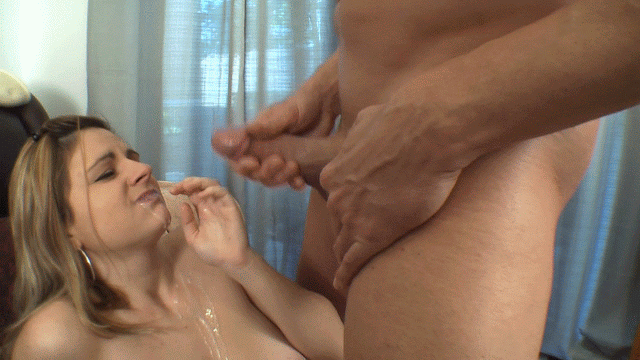 [ssba]