Tim was getting a fountain pop at a local buffet when the Great Shift hit. When he came to, he was still holding a glass and getting it filled, but this time he was holding a glass filling up with the hot jizz of the stud in front of him! Looking at the glass and the cock, he nearly screamed, then glancing down he seen he was a she! Big boobs, locks of dark hair, smooth legs, and an exposed vulva! Looking at a mirror nearby, he got the whole picture, he was a slutty brunette with a pretty face accented by long lashes, heavy purple eye shadow, pink blush, and pink lipstick holding a glass of hot cum from a huge well hung man. Below he was wearing sweaty tan pantyhose, hot and sweaty from all the hot sex this new body was having. The cotton crotch in the pantyhose was soaked in pussy juices as he could smell the odor of his new pussy. Tim dropped the glass of cum in horror and screamed at the mirror in his new voice as he grabbed at his smooth legs feeling his way up to his new coochy. Then men were stunned as none in that area had been swapped, and thought their woman was crazy or high.
"Sharon Spunk, what's wrong," one man asked while stroking his huge cock.
"SHARON SPUNK? SHARON FRICKING SPUNK? Are you kidding me? I can't believe this. What on Earth would put me in this slut's body, this is so horrible," said the new Sharon.
Then she seen the Great Shift news, and nearly feinted realizing the swap may be permanent, and it was.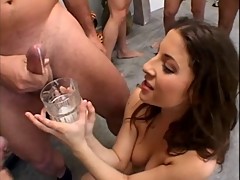 [ssba]