Henrietta blindfolded Jeff and told him he was getting a big surprise for his b-day. Jeff thought it would be a new car. Unfortunately for Jeff it wasn't. Henrietta was a sorceress, and she turned Jeff into a woman as she preferred other women, and wanted to stay with Jeff. Jeff felt strange right away, especially the longer soft hair, and the new weights tugging at his chest, as well as feeling smaller and curvier. She pushed him to his knees still blindfolded as a friend of hers, Larry, shoved his huge cock into his mouth before he could speak. Jeff knew he was getting a dick in his mouth, but couldn't scream as he was being lunged into and out of quickly by Larry.
Henrietta loved to watch this, and in accordance with the spell, soon Jeff would love cock and pussy and would be a bi cock slut. Soon Jeff loved the cock in his mouth, and began to suck on it. As Larry was about to cum, Henrietta lifted the blindfolds and grabbed Jeff's new boobs as Larry came on Jeff's sexy new face! Jeff should have been repulsed, but loved it! He remembered who he was, but had very strong slutty urges now, and didn't care he was now a slut.
Henrietta explained why she did it, and how his new life would be with him being Jenna, instead of Jeff, and being her bi cock slut girlfriend. Jenna agreed and began to suck on her own cum covered nipples.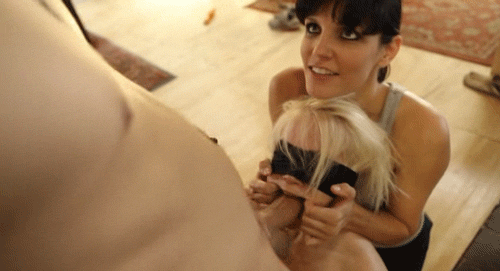 [ssba]