"And now he does an excellent job, I must say." Jeff calmly said.
"But… what… what he's doing now? He's working abroad?" The young manager asked a little uncomfortable and shocked with the scene. I could sense it in his voice, well, it's not very common to see a semi naked woman sucking cock in the middle of a corporative room.
"Oh… Tom…" Jeff chuckled. "Not at all, he's very close." I felt Jeff's hand on my head. "In fact, you can experiment his new expertise as soon as he finishes here. Oh sorry, she. He's a she now." He laughed as I listened the slurp sounds coming out of my own mouth.
"What? You can't be serious." The young manager named Tom loudly said surprised.
"Oh… I'm being very serious." Jeff's voice was secure, sober, almost severe.
"She's him, our CEO?"
"Not anymore Tom, I'm the CEO now, and you're about to become a director, you just have to be quiet about it while enjoying the services of our friend here." He forced my head down; I could feel the head of his cock touching my throat. "Are you up to it?"
"Sure… I, well… sure. I'm in! Is he… is she good, for real?" Now, Tom's voice was less shocked and more interested.
"Hmmmm oh yeah… she's hmmmmm…" He moaned as I felt the thick liquid invading my mouth. "She's the best cock sucker I've ever seen." He let my head go as I swallowed the salty juice.
"She will just clean me a little here, and you can test it yourself, Tom. Then you tell me what you find, if you don't like it, we can punish her, and of course, by all means, if you want, you could also fuck her, she just loves it." He said while I licked his penis clean and remembered that I used to be the one testing the expertise of both.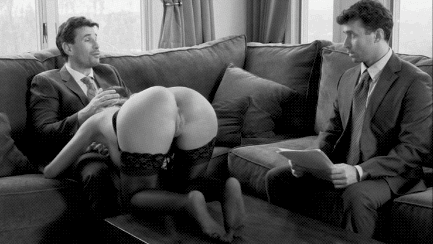 [ssba]