Jane stepped out of the shower and casually walked in to the hotel bedroom, where her husband lay on the bed. Her husband Jim, looked her directly in the eyes and did a very strange, for a man, hand movement that looked like he was jacking a dick. Luckily for the newly weds they were taking their honeymoon on Exchange Island and Jim had been swapped into the body of a female teenager, therefore the sexy little hand action turned Jane's own male teenage body on, instead of worrying her.
The innocent eyes of the girl watched Jane's body with a mix of fear and lust that sent chills down Jane's spine. It was only their second day on the island and already she could barely contain the love she felt for Jim's mind and not his body. A mind that was so in step with her only, all their friends had said that Exchange Island would bring them closer together no matter what bodies they ended up in.
Jane quickly rushed to the bed and took her petite husband in her arms and kissed him hard on the lips. Soon Jim pushed Jane away and got down on his knees "I'm going to show you the way I like it" Jim whispered. He lick the tip and began playing with Jane's shaft and balls, as Jim got to work Jane wondered what the people in their bodies were up too. Jane was brought back to reality by Jim trying to deep throat her cock, she hoped that who ever got her and her husband's body weren't planning on wrecking their borrowed bodies like her and Jim were. Jane took a large dildo out of their luggage and pass it to Jim to use in what ever hole he saw fit, Jane felt it press against her own asshole and she knew they would be returning to the island as soon as they could.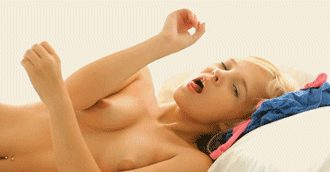 [ssba]