Henry said, "Nothing like a blowjob at the crack of dawn. Morning BJs are the best!"
Grant said, "Yeah, but what are you getting at? You haven't had a girlfriend in years."
Henry replied, "I have an answer for that, plus I haven't had sex in years believe it or not."
Suddenly Grant morphed to a busty blonde with a huge ass in tight clothes and high heels, and he found he was sucking Henry. Before Grant could react, he felt he had to continue he couldn't stop.
Henry said, "Here it comes, I should have a huge load ready, haven't relieved myself in a year!"
Grant's heavily makeup covered eyes lit up in shock, knowing what was next. Henry shot some cum in Grant's mouth, and then pulled out and the rest was all over him! Gobs all over!
Henry said, "I know designate you Gillian, my cum slut."
The new Gillian wanted to leave, but she was compelled to stay, and she had to do what her new man asked of her! What a spell, and he must have been at the wrong place at the wrong time, as he as now Henry's bitch permanently!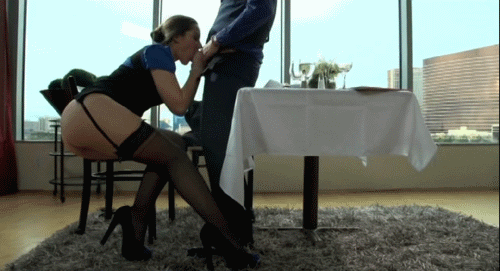 [ssba]