Hank was driving out in his car by the side of the road to check on his crops, when he was talking to himself.
"I'm older now, I think I wasted my life on farming, maybe I should have done something different with my life, way different than this. I'm an old man now, though, what could I do like this? I wish I had a different life this wasn't it for me hmm," said Hank disappointed on how life turned out for him.
A magic stone was in this field, tossed out by someone a few days earlier after they made a wish, and could no longer use it. The stone would only grant one wish a person, so you had to make sure it was a good one. Hank's wish was vague, and he hadn't even noticed the stone. The stone noticed him however, and glowed a bit before granting his wish in a way it took it.
Hank had been holding his penis out peeing in the field, something he could do his whole life as a man, but now that would change, along with his entire life! Suddenly he was on his back on a bed, and he was no longer holding his penis. His hand was in the same position, but was smaller. He seen a pink top, and legwear right away, and realized he no longer felt his little buddy. He lifted a foot, very heavy, to see he had ridiculous platform heels in hot pink on his much smaller feet as well. He knew right away something was off, and was he now a woman? How? Why? This was impossible right?
He felt his new long hair, and then spoke, surprised at his female sounding higher voice. This pretty much confirmed it for him, he was somehow in a woman's body, dressed rather sexy too. He didn't have much in the way of boobs though, but they were still more than he ever had as a man of course. He tasted lipstick, a sweet taste, and the smell of perfume, a peachy aroma. He got up off the bed and stumbled in those shoes. That would take getting used to, and they weren't going to be easy to get off, they had lots of straps. He decided to try to walk in them to get to a mirror panicking.
Finally making it too a mirror, after nearly twisting his left ankle, he seen his full form. He was definitely a woman, and young too. Then a guy cam into the room.
"Hannah, be ready in five, we are ready to shoot, "Humping Hannah Has Her Way III", now. Just do what you do natural babe, let Hough Peter rock that pussy and mouth. I'm sure the video will make us big cash," said her manager Hugo Cox.
It was that moment, Hank, now Hannah realized he, no SHE was a porn star. How? Why? Was it that wish in the field? This was a whole new life, and she was young again, probably 25, 26? She had her whole life ahead of her, but as a woman? A porn star? How could she do this, she was never into men before, not even slightly gay as Hank. That all changed when Hough Peter walked in. Hannah realized she was now greatly attracted to men, as she was very turned on by his hunky body and huge peter. No wonder he was called Hough Peter! Hannah thought this was dirty, but wanted it oh so much! Her life would be different from then on for sure.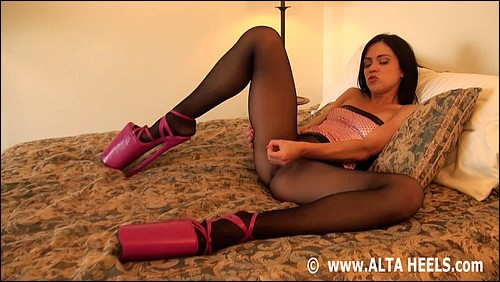 [ssba]