Ted said to the genie he found, not really knowing how many wishes he actually had, "First, I wish I had better chewing gum," as he pulled on a string of gum from his mouth upward.
The genie thought he meant, "chewing cum" and turned him into a cum slut chewing cum in a cum filled condom that appeared in place of the gum! Ted felt immediately something was not right, as he felt wider hips, heavier chest and ass, and long hair cascading down his back, all while staring at a stretched out condom with cum contents dripping down his throat, while he was chewing the end of it. His left manicured hand with to his throat in shock, as he heard his high pitched moan as well from the reaction to the change!
Ted threw the condom down, nearly hitting the genie with it, "WHAT… OH MY VOICE, MY BODY, WHAT HAVE YOU DONE TO ME?! THIS ISN'T CHEWING GUM, I WAS CHEWING CUM. YOU BASTARD! THIS IS SO DISGUSTING. OH MY CHEST IS SO HEAVY, ALL THIS HAIR, THIS… THIS… PUSSY?! MY COCK IS GONE, COMPLETELY GONE!"
The genie said, "Well, I heard 'chewing cum' and not chewing gum, so I guess that's my mistake, but I only grant one wish per person, so I'm afraid you'll have to make the most of it, Trisha!"
Ted, apparently now Trisha replied upset, "ARE YOU KIDDING ME NOW?! ONE FLIPPIN' WISH?! WHAT ARE YOU SAYING, I'M STUCK AS THIS… THIS… GROSS CUM WHORE FOR LIFE? WHAT WOULD MAKE YOU DO SUCH A THING IN THE FIRST PLACE, GENIE?! WHY ARE YOU CALLING ME TRISHA NOW TOO? TO ADD INSULT TO INJURY? IS THIS AMUSING TO YOU GENIE? REALLY?"
The genie replied, "You listen here, Master, well Mistress now, I don't take to being yelled at by you or anyone else, got that you little bitch? I made a mistake, and for that I'm very sorry, but there is nothing I can do. Once a wish is wished, that is it, and I'm off to a random place for my next wish granting. It could have been worse, you could have ended up a horse or something, ever think of that? At least you are still human, albeit much sluttier but still.
Also, for your information missy, I'm calling you Trisha, because that is your name now. You are Trisha Trixxx, as chewing cum would be suited by a woman like you are now, that's why I changed you in the misunderstanding. Ted is gone, only Trisha Trixxx is known to anyone else but us. We remember Ted so we know what was gained by the wish, that is all. To everyone else, you are Trisha Trixxx, cum slut hooker.
I will help you out, however. Since you are a hooker now, I'll zap one of your clients here to your house right now to give you some pleasure, so maybe you won't be so angry. You see? I'm a generous genie, I'm doing this at no extra wishes."
The genie zapped Brent Bigone over, apparently one of Trisha's clients in this new reality.
Brent Bigone said, "I'm ready for action once again, Ms. Trixxx. This time I want you to take me all in, and give me the time I like, big pleasure! If you like I'll even fill up a condom so you can snack on it later. Are you ready my fine ass bitch? I'm paying $500 this time, for a great time for sure!"
Ted, now Trisha, was shocked, not only was she changed, but now one of her "clients" was there waiting for pleasure right in front of her, just minutes into her change! Trisha was upset and mad, but somehow… someway… she was starting to like the taste of the cum in her mouth from that condom she had earlier, and Brent Bigone was starting to look… good to her?! Why was she thinking of his boner, his big strong manly body, all over her? Why was she thinking of sucking and fucking with this "client"? Why was she horny for men now? She realized she was actually becoming that cum slut the genie made her to be, and she liked it!
"There, Mistress Trixxx, I knew once you seen a big strong man like Brent here, you'd be fine, with your new desires surfacing that came with your change. Just give it a chance, you'll have a great time as Trisha, pleasuring and giving pleasure to a whole array of guys, while you get a good supply of "chewing cum". Sounds like you are good to go now. Just for the record, as a female genie, I think your client is hot too, I wouldn't mind sharing him with you to ease you into this as well, what do you say," asked the genie.
"Oh my… I can't believe this… I'm turned on by a guy?! I'm a flippin' chick! I don't care what you do genie, share him if you like, I just want to suck and be fucked, and taste that wonderful chewing cum later! OH TAKE ME, BRENT BIGONE, I KNOW YOU HAVE A BIG ONE! FO SHO," said the new cum slut Trisha Trixxx while rubbing her boobs and pussy in anticipation of this huge well hung stud muffin man.
The both had their way with Brent, and when Brent finished the genie offered him a wish, one wish of course, and Brent made it, "I wish I could have whore sex anytime I wanted."
"GRANTED, BRENDA," said the genie before she finally left for good.
"BRENDA?! WHAT DID SHE…, OH MY GOSH NOOOOOOOOOOOOOOOOO," said Brent now Brenda, after realizing the genie turned him into an ultra busty cum slut similar to what she did to Ted, only he got much bigger breasts out of the deal!
The new Brenda stared down at her massive 34J's and freaked out grasping them with her long red one inch sharp nails, and Trisha said, "Welcome to the club, Brenda, now we both need to find our clients, because we both need cock now, and neither of us have one!"
Looking on, the genie laughed, then reappeared with her bottle someplace else.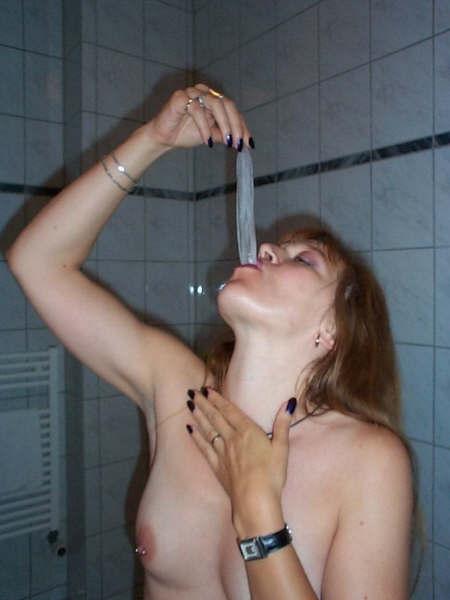 [ssba]