"You're a genie!" I shouted to the scantily-clad woman who appeared in my living room after I rubbed the table lamp as I cleaned my house. I always thought they came out of different lamps but this works too.
"Yes, but a different kind," she said, her voice seductive. "I don't grant wishes: instead you name a person, and I give them whatever their greatest wish is."
A bit odd, but I had a perfect way around it: my mother really wants grandchildren, and I haven't had a girlfriend in years, so I'll kill two birds with one stone.
"Alright, I choose my mother," I said confidently.
"granted," the genie said as she snapped her fingers and disappeared. I thought my beautiful new wife would appear as instantly, but she didn't. Maybe the magic was a bit delayed? I shrugged and went back to cleaning. As I did I started to feel really warm. it was summer though, so I didn't think anything of it. Until I felt the swaying on my chest, that is.
"What?" I muttered, feeling the lumps beneath my shirt. "Why is my chest to flabby?" I removed my shirt to get a better look. Why does it look like I have-
"Tits?…" I whispered, poking the fleshy mounds wobbling on my chest. I fondled them for a few moments, both terrified and aroused. I was so interested in my new breasts I didn't even notice the gurgling in my stomach, or that it was slowly ballooning outward.
I didn't notice until it was past my heavy new assets. "Holy shit!" I shouted, moving my hands down to cradle my expanding belly. "Why am I getting so fat? I almost look like I'm pregnant!" Wait. Breasts, dainty hands, slim arms, high voice, big belly…
"I AM pregnant!" I screamed. I hadn't outsmarted the genie after all! Instead of giving me a wife to give my mother grandchildren, I was going to have them!
I waddled up the stairs to my bathroom, my belly still growing, but much slower than it had been. I looked at myself in the mirror, and my mouth dropped. I was completely female, from head to toe, no part of my male self remaining, not even-
"My dick!" I pulled my pants down and revealed my crotch, previously hidden my my huge belly. It was gone, and in its place was a vagina. My vagina. My vagina that was going to be pushing a baby out of it way sooner than I would have liked.
But at least Mom would get her grandchildren.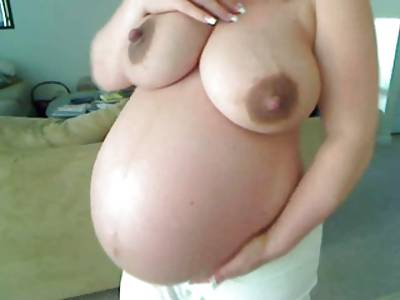 [ssba]