My cousin wasn't amused when I found her dildo while rummaging through her stuff. I started waving it around and taunted her for not being able to get a real guy to stick it in her. Erin told me that a good dildo was just as good as a man sometimes. "How about you find out yourself?", she offered. I didn't have time to reply.
She snapped her fingers and my world changed. I was no longer her annoying 15 year old cousin that didn't respect her privacy. I was college chick like her, dressed in a white top and very short shorts.
Erin slammed the dildo on the floor. My eyes were fixated on the rubber cock as it bobbed back and forth atop its suction cup base. I ripped off my shorts to get to the growing heat between my legs.
I made a beeline for the waiting phallus, barely even phased by the tits floating beneath my shirt. Almost instinctively, I startled the dildo and took a firm hold of it with one hand. I guided it to where it belonged and slowly lowered my new pussy, taking it in inch by inch…
Erin laughed and even got a little turned on at the sight of her little cousin taking a fake dick like a champ. She was looking forward to watching him take the real thing when her fuck-buddy, Ray, showed up. Riding a dick was one thing. Laying back and getting fucked was a whole other story.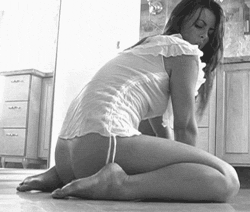 [ssba]