My wife and I had a great relationship, even after I came out as a transgender woman. She promised that she would stay with me through it all.
She stayed with me through the changes to my body. Through the surgeries. Through my mood swings.
One day she surprised me when I came home. She was completely naked. She smiled at me and walked in to the other room and closed the door. I took off my clothes to go join her.
When I walked in, there were too naked guys with her. I didn't know what to do. I had only ever been with my wife. "Enjoy it Honey", she said to me.
And you know what, as I sit here with my wife watching me have cum unloaded all over my face, I realize that I couldn't be happier than I am right now. Turns out, this is what I've always wanted.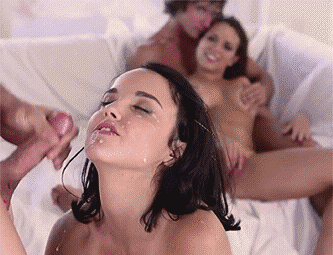 [ssba]