I was at work one day last week when my wife calls me and asks if I was serious about going to therapy with her to better our marriage. She and I had been talking about it for a while now. We still loved each other but things were, for the lack of a better term, boring between the two of us.
I asked here to tell me what she was thinking. She said she was talking to her friend Jenny and she recommended this new (garbled sound) therapy and she would like to sign us up ASAP since she gets a discount as a new customer and Jenny would get a free session as a referral bonus. All she needed was my consent.
I asked her for more details but she just asked me to trust her and she would make sure that I was very happy with the sessions…
So I said OK. And before I could tell her I loved her she had hung up the phone and all I got was dial tone. Oh well. She's happy and this could bring some new excitement into our marriage I was OK with it.
When I got home and opened the door, I started to feel real strange. I didn't get 10 steps into the house when everything about me changed. felt long hair cascading down my back – long BLONDE hair! And everything about me was different – very different. In fact, I had grown a set of breasts and lost a penis in the blink of an eye. And my business suit had become a short silver dress with a zipper that went from the hem to the neckline.
Strangely enough, I wasn't upset by all the changes. I found myself quite horny and looking forward to whatever the evening would bring.
I walked the rest of the way into the living room, well swayed would be more accurate, getting hornier with every step. As I turned the corner, I saw a strange man standing there in a pair of shorts and nothing else… My new body erupted in excitement and I zipped off my dress and stood there waiting for him to make the next move…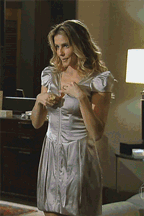 [ssba]