It started out innocent enough. My girlfriend was a little kinky and really into role-play. I loved it. Tonight she said wanted to try something that would take our sex lives to the next level, but first I had to change into my best suit. Knowing that she really liked power games and probably wanted to play out a Boss/Sexy Secretary scenario, I quickly complied. She went to the washroom to freshen up, leaving me in the bedroom wondering what that kinky little minx was up to.
When she emerged from the bathroom I was floored. God, she was so hot standing there in her lingerie. I wanted to pounce on her right then and there, but I knew she wanted to play first.
She ran her fingers up her creamy thigh to her soft breast the stuck a pose. "Do you want my body?" She breathed. "More than anything in this world." I replied. She smiled wickedly then pulled out a nylon rope from behind her back. "Show me, dominate me, make this body yours."
I wasted no time taking the rope and tying her wrists together before securing her to wall in front of a large mirror. She stared at me the entire time looking so submissive, so vulnerable.
I was incredibly hard, enjoying the feeling of power I had over her.
"You love the power, don't you? I'm so helpless, you could do anything to me." She fluttered her eyes and bit her lip. I almost creamed myself right there. "Oh yeah baby, you have no idea how good it feels." I said. "Perhaps it's time I did. Perhaps it's time you learned what it is to be powerless!"
I could feel the world spinning as I slipped into unconsciousness.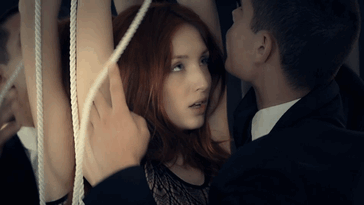 [ssba]