The body swap device could be used for those interested in changing things. If they hated their old lives so much, they could switch with another person, but the catch was it was random, and it had to be someone else that wanted to switch also. There was a big list, however, the random part did scare some, but not others. Some were so desperate, like Peter Firm, that he or she would be willing to take the random jump into another body and life. The swap was one way, an irreversible, as any more swaps would kill the person altogether!
Peter Firm was a male porn star, and was tired of the life and job he got himself into. He wanted more out of life than just sex, and he had little other skills to work with. Also, by leaving his contract, he would be broke and probably homeless! He decided to sign up for the random life swap, and went to the clinic. He would be swapped with someone else on the list, randomly.
Peter sat in the machine and closed his eyes. He awoke to a huge surprise, well two huge surprises! He was holding two huge cocks, one in each hand! He felt weights on his chest, and long hair around his face and shoulders, as well as a wetness between his legs. He felt smaller, softer, and well, different. Rightly so as he looked down to see his new form.
He knew it would be random, but never expected this! He was apparently still a porn star, only now a female one! He had boobs and a pierced pussy, and was not wearing much, except a necklace, a belt, a pussy ring, and by the feel of his face, lots of makeup. He was no longer Peter Firm, he was now Sharon Peters, porn star. How ironic the name was he went from having a firm peter, to sharing peters!
He looked at one cock, then the other, noticing how small his hands were and how they now had long nails with red tips. Definitely a woman's hands, and they were doing such a nasty job with these guys. Soon the guys themselves pulled away, and one got on the floor, taking him up the butt, while the other climbed on him, taking his new pierced pussy. Not only was he female, he was getting both holes filled! It felt strange yet incredible.
Peter, now Sharon, opened her mouth to express her shock, only to have that filled by yet another cock, from a guy that was somewhere nearby stroking to erection! She was now a porn star with all holes filled! Later the guys pulled out, and covered her in hot cum, leaving her a cum covered slutty porn star.
Sharon got up and went for a mirror, looking at the new cum slut she had become, a random change of life, and now in the same business only on the receiving end! This would be a different life no question about it, but she didn't know if she could handle this either, though she was surprised how much the men turned her on now, and she had three orgasms since the switch!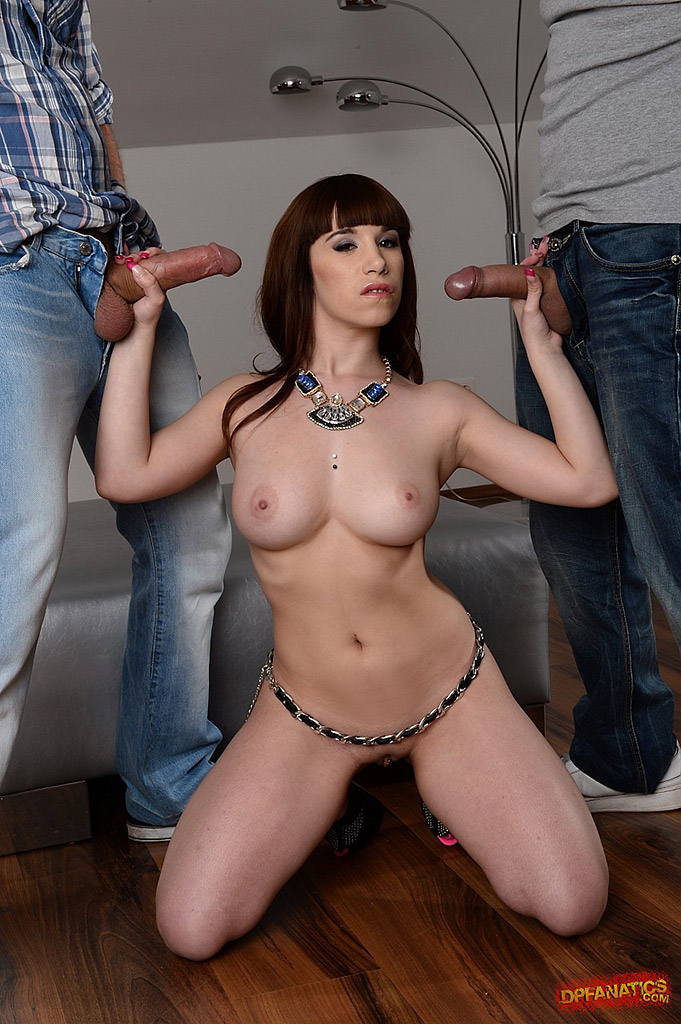 [ssba]