I had always been one for sexual games, and when i found Kendra's vibrator panties, I knew i was gonna have fun today. While my old body, I mean…. my brother Kellen was away at school for the day, I knew i was gonna have some fun
I slipped on the vibrator panties and put the controller off to the side, and rummaged through Kendra's… i mean, my drawers to find the smallest bra i had. When i found it, I was astounded, i could barely fit my tits into the cups
When i finally got the bra on, my rock hard nipples practically breaking thru the flimsy materal, I grabbed the remote and set it to edge mode. This would bring me right onto the edge of orgasming, but i could never cum. The game was to see how long i could last without taking off the panties, if i dont take them off before my old body, i mean, kellen, gets home, then i win and i get to have sex with him. If i do take them off, i have to masturbate right in front of him.
So, i began to go about my daily activites, my massive breasts nearly bouncing out of the bra with every step i took, the constant vibrations in my nether region, constantly bringing me closer and closer to my climax, then suddenly stopping.
10:30 AM: I sat down to watch some TV, hoping to take my mind off the vibrating pleasure in between my thighs, my nipples constantly erect, poking through the blue bikini top, my hips bucking slightly with each vibration. I brought my hands up to my chest and began massaging my tits, hoping that this was what i needed to push me over the edge, but my climax never came.
11:45 Am: I went into the kitchen to make myself some lunch, nearly collapsing onto my knees from the constant pleasure. I had had enough. I ripped off my panties as the bra practically burst off my chest.
I layed down on the counter and began furiously rubbing my clit, my other hand massaging and groping my massive breasts. Moans and ooohs escaped my lips.
"Ooooh yes Kellen give me more, make me a woman!" I shouted as i reached my climax.
At that very moment, the front door opened, and my body walked through.
He ran upstairs and hid in his room.
"I guess I'll put on the show later" I moaned, as i hobbled up to my room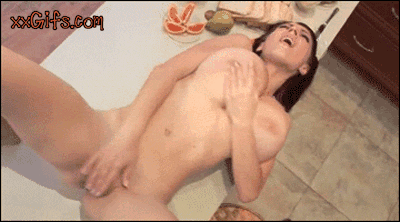 [ssba]