From the time my wife Susan turned 34, she was very sensitive about MILF jokes. So it would have been a good idea for me to be a little more careful, because you never know who knows someone who dabbles in a little sorcery.
We were sitting around in a group of couples one evening when we got onto the subject of mature women and I said something about MILFs being so "appreciative". Everyone laughed, except Susan.
A few days later I felt extra groggy as I was heading to bed. Then it seemed like there were some people in the room and I could smell some sort of vapor and my body felt like it had an all new weight and an all new center of gravity.
I woke up naked as Amanda, aged 39. I reached down and my breasts were huge. I was lying on my back and I couldn't look over them and see the rest of my body. Of course my penis was gone. I let my hands wonder to my new parts and was exploring when Susan walked in.
"Mandy, I see you are already doing some discovering", she said. "Jake will help you."
In walked this stud maybe 26 years old. He looked at me lying on the bed. He said, "Hi Amanda, it's nice of Susan to introduce us. I would shake your hand but I think I will do something else. I love fucking older women because they are so appreciative."
That was it. It took him two seconds to turn me over. His cock was already rock hard from looking at me. He lifted my butt up in the air to get the angle he wanted and slapped me on my butt a couple of times and then he put it in, all the way! I felt like it was 20 inches long. I was lying there getting fucked hard and Susan was watching and I said to myself I am not going to say it and then I said, " Oh yes thank you thank you thank you Jake."
And I wondered if Susan knew anyone else I could thank.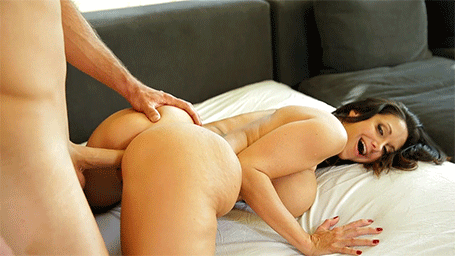 [ssba]