You can't play quarterback without confidence. So I didn't have any problem accepting the challenge of Zach the quarterback of the Wildcats.
The loser would dress up in a cheerleader's uniform, visit the campus and the dorm of the winner, and lead a cheer for the winner's team.
I played well but we lost by a touchdown. I borrowed a cheerleader's uniform and headed to Zach's campus the next afternoon. I looked pretty silly in the uniform.
It turned out Zach had a way for me to deliver a private, more personal cheer for his team. He said some kind of incantation and all of a sudden the uniform was perfect for my 5'4″ coed's body. He took my into his room and he showed me how as a quarterback he liked to line up behind the center. The he lifted my cheerleader skirt and kept on pushing me forward onto the bed.
As he was fucking me and slapping me on the butt he was having me yell, "Go Wildcats, go". I got into the Wildcat school spirit big time and Zach got into me big time.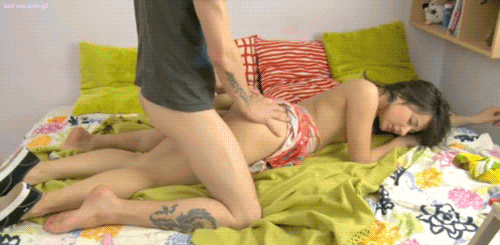 [ssba]