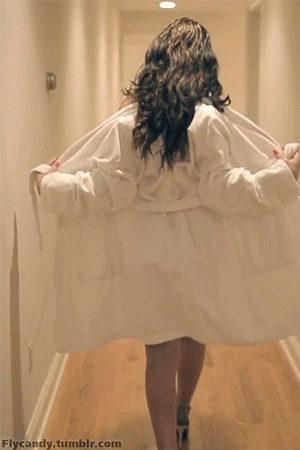 I've been hiding in my room for over an hour now. But can you blame me? I was a stone cold stud – 6'3″ of solid muscle and 10″ of throbbing cock, not to mention a record setting decathlete – a real ladies man. My college track and field team is at a tournament in Florida. The beachfront hotel we're staying at is full of babes from all over the country, and they're all running around in the skimpiest, sexiest swimsuits imaginable. I had been hitting on every girl with good figure hoping to score with a girl from every school here. Sure, I hadn't actually slept with any of them yet, one of them even told me to watch my back, but I know I was getting close to sealing the deal with a few. Then a little while ago, everything got hazy, like I had too much to drink. I just barely had time to get back to my room before everything went dark.
When I woke up, it was in a completely unrecognizable body. The biggest difference? It was female! All my hard earned muscle had evaporated, and I wobbled on the new, sinuous legs as I got off the bed. I could feel strange parts of my body jiggling as I moved, and the world seemed distorted from my new perspective, a foot lower than my old height. Oddest of all was the absence in my crotch of the significant weight that had always swung between my legs. Instead, there was a cool void, an emptiness made to be filled. I nearly vomited at the thought.
Finally, I made it to a mirror and saw the new form I've taken. Put simply, I've been turned into a knockout, a wet dream, a living embodiment of sex. My body is all curves wrapped in a smooth, creamy complexion. I've got tits as round as a grapefruit and an ass built for backing up. My dark hair has grown out in long, silky waves around an angelic face – or is it devilish? These large, dark eyes, full lips are too enticing for anyone to resist. And there at my groin is the irrefutable mark of womanhood: a vagina. I'm better looking than the most beautiful woman I ever could have imagined. And that's exactly what makes this so incredibly embarrassing!
That's why I've been hiding here. I'm supposed to be a stud! Out there seducing women that look this hot and making them moan with pleasure. I tried to cover up this body and that humiliating pussy as fast as I could, but for some reason, the only clothing in my hotel room was a strappy black swimsuit a pair of heels and some jewelry. Without any other option, I put on the bikini, though its difficulty was insanely disproportionate to its size. Unfortunately, I almost looked sexier with the miniscule fabric emphasizing my new assets. Only then did I realize there was a standard hotel bathrobe in the room that I could use to cover up. Wrapped in white cotton over the sexy swimwear, I've been trying to understand what happened, arriving at one simple conclusion: someone did this to me. Probably that bitch who threatened me. I don't know how, but she did this. She was an ugly waste of time anyway. She's probably a dyke who couldn't handle a real man anyway, so she's trying to get rid of me. I should give her a piece of my mind.
Of course, that would mean leaving the room. Someone might see me looking like this. Although it's not like anyone would recognize me with how much I've changed. They'd be too distracted by my looks to even consider I might be anything but another hot chick enjoying a trip to the beach. Come to think of it, I'm even hotter than a lot of the girls here. I've certainly got more curves than all those athletes. Guys would give their right nut to grab an ass like this or to stick their face between these beautiful tits, let alone have the chance to get a suck or fuck from me. Why should I be so nervous about going out? I'm a goddess!
I put on the heels, added some bling, and set out. With each step outside of my room, I can feel my confidence growing. I start to put a little swing in my step, and feel a thrill of pleasure. I like being this sexy. What was I thinking covering up such a beautiful figure? I throw the bathrobe aside and feel the pleasure increase. Not just pleasure – arousal! Suddenly this body starts to feel natural. It feels like home. It's MY body. My firm succulent breasts and my sweet, bouncing ass. It's my beautiful pink pussy, and guys will be begging to enter it. I bet every girl here will be jealous of me, even that loser who transformed me. She thought she could embarrass me? Well, that was her mistake. I'll show her what a REAL woman looks like, how a REAL woman acts. There are so many hot, muscular guys here, and I'll make sure that every one of them comes begging to fuck me. Then all I have to do is take their hot, iron rods in every opening I've got.
* * *
A short while later, there was a huge commotion on the hotel's section of the beach. A beautiful young woman no one had ever seen before was sunbathing topless and giving out her room number to any well-built stud with balls enough to ask. A few even got spontaneous blowjobs right there on the spot. Not far away, a group of girls was watching these events unfold with extreme satisfaction. After a number of them had been harassed by a cocky meathead, they had conspired to transform him into his own fantasy woman. It eliminated one pest and distracted plenty of others. An added bonus was that their trick also removed a serious athlete from the competition. It was just the advantage needed for the team from Spellcraft State University to win the tournament.